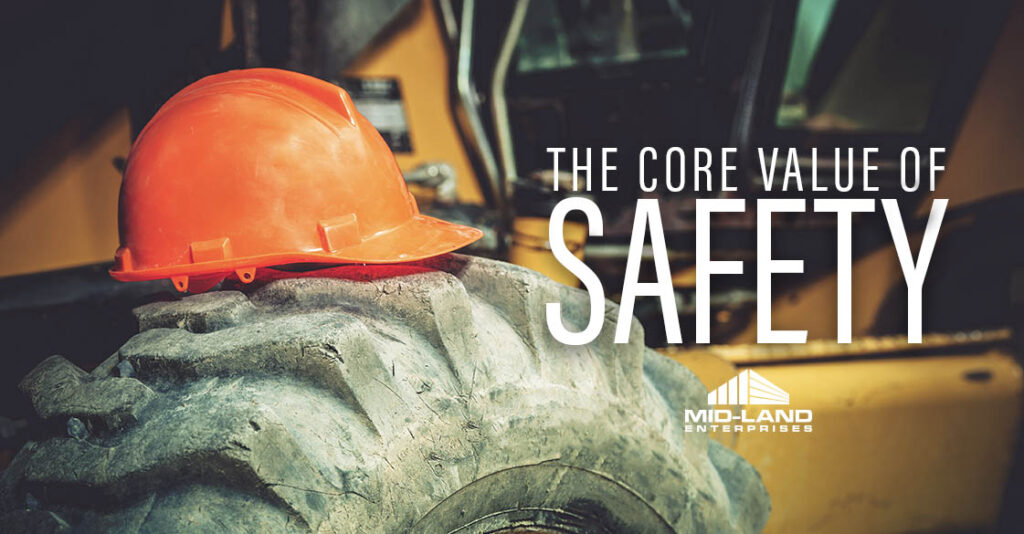 At Mid-Land Enterprises we've been taking a deep look at our core values as a company. Our mission statement describes our company's function, reminds us of our place in the market and our key competitive advantages. For our long-term goals, it is incredibly helpful, but for our every day work life our CORE VALUES provide much more direction and meaning.
We've identified our number one core value as our mindset that is SAFETY FOCUSED. Being safety focused is defined at Mid-Land Enterprises as total commitment to critical safety analysis before each and every job and sustaining communication through to completion, thereby engraining safety first in our culture.
We place a high degree of importance on safety at Mid-Land. We talk about safety in morning meetings; we review safety issues on each bid, and we never forget that the most important part of our job is keeping employees safe. Before we ever start a job, we perform an analysis to identify hazards. We then educate and prepare to perform the job safely. This takes time and it requires that management commits to investing in our team by providing on-going education and safety-related training. The pursuit of increased safety and training keeps excellence at the forefront of our conversations. This focus creates an environment where we can collaborate to find the solution that will work best for our clients and for our safety priority.
We asked Patrick Nine, our Building Sales Manager to tell us what this core value means to our company and to reflect on what it truly means to be a company who is safety focused. Here are Patrick's thoughts in his own words.
Our commitment to worker safety is a commitment to brining each one of our workers home to their family each night. That ideal needs to be worked out each day in the way we talk to each other and in daily practices around the shop, on the job and in transit.
Our approach to safety is not one of simply insisting on it, but instilling the desire in each employee to WANT to work safely instead of a mentality where they are forced to work safely. At Mid-Land Enterprises we start this work with our new hires through an initial video series on safety, we review safety protocol before they are on the job, and thoroughly explain fall protocol. But we don't stop with highlighting this as part of our employee on-boarding process. These standards and conversations are integrated into our everyday meetings, planning sessions and even in our casual conversations.
We continue our drive for excellence in safety by continuing to offer certification programs to our guys in the field, providing opportunities for mentorship. Our team is also very responsive to keeping safety at the forefront of everyone's mind. It is important that we keep a constant reminder to our employees that we do work in a dangerous field. There is no place for complacency and having a safety focus as a core value essentially means that we are continually looking after one another. This collaborative environment allows any one of our employees to immediately help anyone working in an unsafe manner. We each feel compelled and empowered to help our fellow employee to regain and exceed safety standards. In terms of OSHA safety standards, our company is absolutely committed to them, but we want to be of service to each other by exceeding those standards and always looking for improvements even before they are mandated.
Patrick Nine is Mid-Land Enterprise's Building Sales Manager. With over 25 years in building, purchasing and facilities management he brings expertise in many fields including welding, plumbing, electrical and general contracting. When asked about the #MidLandDifference, he is quick to comment, "The best form of success is achieved when we focus on our customer's bottom line and our top standard excellence."
Subscribe to Our Newsletter