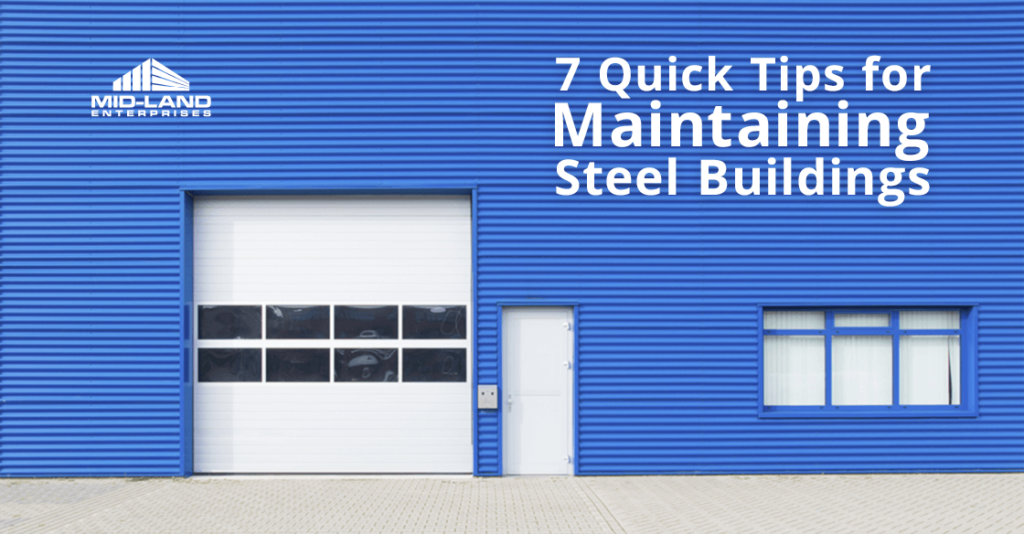 7 Quick Tips for Maintaining Steel Buildings
Steel buildings are one of the greatest bargains found anywhere. They offer the benefits of more costly forms of construction while allowing you to save valuable operating funds. They're durable, long-lasting, and attractive – in short, everything a commercial facility might need.
Like all things man-made, however, these structures need a little routine maintenance in order to perform at their best. Fortunately, these tasks require little time to complete. Here are 7 quick tips to keep your steel buildings in great shape:
Wash your building every 3-4 months with a hose and soft nylon brush, working from the top towards the bottom, to remove dust, sand, and pollution. Taking this step will help safeguard the exterior from developing rust. If you're located near a major industrial environment or the coast, then you should use a mild cleaning solution in addition to plain water when cleaning the building.

If your steel building has gutters, then it's important to keep them clean. Failure to do so can cause leaves and other material to build up, leading to overflows and other problems.

Keep trees and shrubs around the building trimmed back to prevent them from scratching the panels. This will help to safeguard the structure from cosmetic defects. It will also help to prevent corrosion.

Keep hinges and locksets lubricated to ensure quiet, dependable operation.

Follow recommended maintenance steps for overhead doors.

Check to ensure bolts and bracing members are snug. You should perform this step every six months or so.

Give the building a general visual inspection once in a while to ensure there are no obvious problems. Consider calendarizing this so it is not forgotten. While this might seem like the most generic of advice, so much can be discovered by routine inspection when you can be focused on nothing else but a true overall visual inspection.
---
Since 1999, Mid-Land Building Company has become a trusted and powerful partner in the metal industry. As part of the Mid-Land Building Division, we service and repair existing buildings and structures including roofs, walls, penetrations, trims, gutters, and any other areas needing attention. mid-landenterprises.com Call us at 417.782.7168, we are here to help.
For more information on steel building maintenance download our Steel Building Maintenance Guide.
Subscribe to Our Newsletter