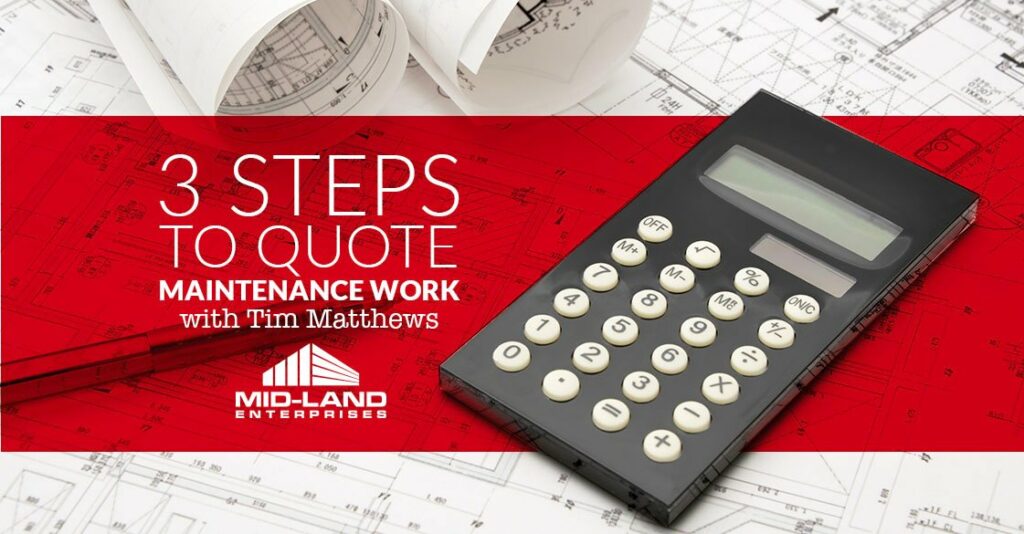 3 Steps to Quoting Maintenance Work
Meet Tim Matthews of Mid-Land Enterprises. Tim has been in the industry for 25 years and heads up our millwright team. He handles calls for preventative and emergency maintenance, quotes projects, and oversees safety and efficiency for the division.
Tim was kind enough to talk with us recently about the processes behind his work:
Our millwright division handles all sorts of projects. The calls we get most frequently are to bid on facility improvements, preventative maintenance, or emergency repairs. When production stops because something is broken, a business can lose thousands of dollars an hour until the repair is completed. So, if I get a call from a Facility Manager whose factory line is down, it's my job to get in and assess the situation as clearly and as comprehensively as possible. To narrow it down, I would say that you need to consider three categories when quoting these projects. You need to assess the location, hours and materials – carefully.
ASSESS THE LOCATION
Before we bid, we ask questions like:
What kind of safety concerns need to be addressed in this area?
Is it a hard area to reach to do the actual work?
What equipment is needed to do the job?
Many of our clients have effectively and efficiently used their space. That is great for cost savings, but it also can leave behind difficult nooks and crannies where maintenance work may need to take place. Working in cramped or difficult to access locations can significantly impact the amount of expertise, attention to safety, and time required for a job.
The best way to gather the right info is to visit the job site and see the location in person. There are a few times this is not possible, but it is the most ideal. For instance, if a company wants multiple vendor's bids for a project, they may try to avoid in person assessments in an effort to minimize workplace disruption. That decision rarely pays off because it makes it very difficult to deliver an accurate quote.
As an example of how important this kind of review is, I remember being called out to bid a conveyor belt project. The company intended to move the conveyor belt within a limited space.
Our calculations revealed that the conveyor belt would fit, but would be at too steep an angle for the product it was moving to stay in place and not tumble down the line.
To prevent mistakes like that, we have to thoroughly investigate the project before we quote the work. It is the right thing to do. I say that because Mid-Land is here to partner with businesses. We want to deliver solutions that will provide the desired outcome or better and we aren't going to bid on work that we know won't yield great results.
ASSESSING THE HOURS
Estimating the number of workers and hours that will be required to complete a job is a complicated process. Understanding of the scope of the project is critical here. A little experience can go a long way and can make it easier to spot potential problems ahead of time. Uncovering these type of issues before the project is bid makes it much simpler to change the project scope.
If a situation looks like it will be complicated, consider the strengths of your team and pair the right people with the right tasks. Creating this framework ahead of time gives you a lot of insight on the number of hours required for a project.
For example, we might be asked to bid on a conveyor modification project. By asking probing questions and going on site to check it out, we may be able to foresee accessibility issues. If we have to remove ventilation, piping, or conduit or piping before the actual job can be undertaken, we need to factor that cost into the quote.
ASSESS THE MATERIALS
Knowing what materials will be needed for any maintenance job can make or break the profitability of the project.
To properly assess material needs, you need to know when and how to ask for more detail. For example, clients may call and request a bid to replace a motor. That sounds like a simple materials line item for the project, but it's important to check into things and make sure. Many of these facilities run with no margin for error on equipment specifications. If the new motor varies from the old one even slightly, it may not work at all – or it could cause serious damage elsewhere.
By asking probing questions we can determine if the upgrade will also require a specialized gear box with the proper ratios for that piece of equipment. Attention to materials and tool details before the project is quoted is critical.
To summarize, understand and consider the number of man hours required, the materials required, and the restrictions associated with the location. Getting those three critical steps right is the key to properly quoting maintenance work.
At Mid-Land, we are working hard to develop long-term partnerships with companies who need our expertise. Calling the same millwright team every time saves a lot of money and time. As we get more familiar with a facility, our team is quicker and more accurate with quotes and job completion. We believe it is the most efficient way to keep a facility running smoothly.
We also want to continue to develop partnerships with companies who have a mindset of preventative maintenance.
Many crises on a factory line or in a facility can be mitigated with proper maintenance. Regardless of the project – roof maintenance, gutter clean out, internal or external project – we are committed to helping the Facility Manager keep great maintenance records. Mid-Land offers customized maintenance retainers so we can get the work on your list taken care of throughout the year and as the company budget allows.
More about Mid-Land and the services we offer
Click below to view our PDF flyer of available services. When the job is too complicated or risky for your in-house team to address, call Mid-Land Millwright. Our team stands ready to perform maintenance, repairs or modifications for your equipment or machinery when you need it.
Our millwright team has been trained extensively and is dedicated to the highest standard of workplace safety. These things have earned us a reputation of dependability and trust with our clients.
Subscribe to Our Newsletter