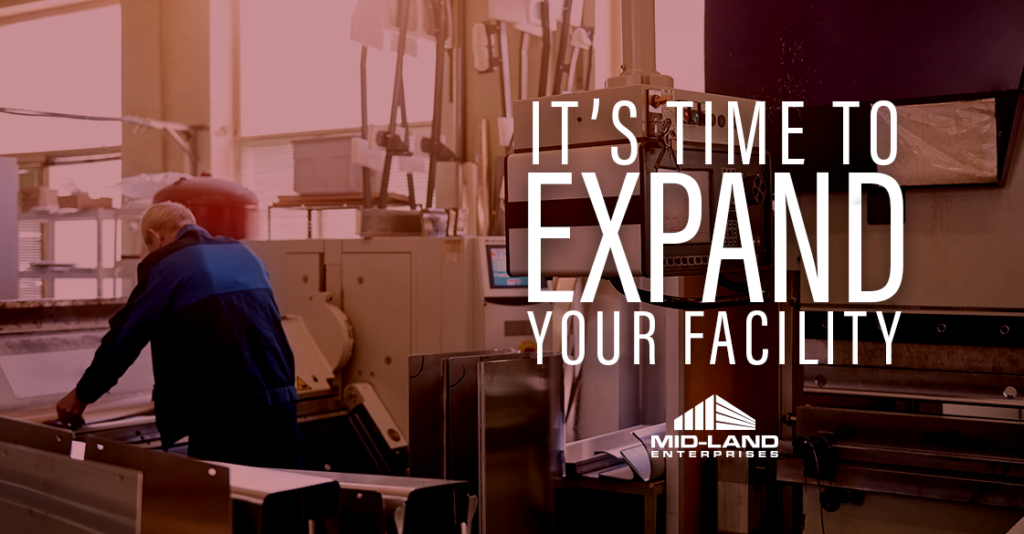 It's Time To Expand Your Facility

Growth is exciting. It means that you're doing something right and your hard work is paying off – and that is the goal after all, right? But growth doesn't come without challenges.
Out of all of the challenges that come with the growth of a business, one of the most demanding is the need for expansion. Knowing when and how to expand your facility are two critical decisions in the overall success of your business. Doing so haphazardly can result in long-lasting negative consequences and limit your return on investment or your continued growth in the future.
Therefore, it is critical that you notice the signs, weigh out your options, and carefully consider your next steps when it comes time for you to expand your facility.
Signs That It's Time To Expand Your Facility
There are many reasons that a business might need to expand. Being able to recognize the signs that you are outgrowing your facility is crucial so that you can act early and plan accordingly.
1. Things Are Getting Crowded – This is probably the most recognizable sign that it's time for expansion. When your employees have to work around equipment, materials, or one another you sacrifice efficiency, safety, and productivity. In worst case scenarios, employees have to shift things around just to properly do their jobs. Aside from the obvious drawbacks to having an overcrowded facility, this type of environment also sends the wrong message to visiting customers. No one wants to see that their supplier is overwhelmed and unorganized. Having plenty of space for equipment, materials, and your employees doesn't just make operations run more smoothly. It makes your business look better.
2. You're Losing Money – While it may be harder to determine, revenue loss due to your staff making do with an inefficient process is a telltale sign that it's time to expand. Having to work around wastes valuable production time and results in a less direct form of loss. Keep in mind that space enhances productivity.
3. You Can't Handle Any More – Almost as bad as being overcrowded is being maxed out. If your current facility is unable to take on anymore then what you're currently doing, it's time to expand. While you might be able to comfortably keep up production, you are inhibiting your growth. And it's not just about output. Maybe you don't have enough power to install more equipment, or maybe you don't have the capacity to accommodate your employees. No matter what issues arise because you are unable to take on more, recognize it as a sign and consider the need to expand.
If you are experiencing any of these signs, it's probably a good time to start planning for change. While there are other options alternative to expanding – such as relocating or opening a satellite location – the process for determining how to expand is critical to your continued growth.
Preparing to Expand Your Facility
Expanding is a big decision. Once it has been decided that it is the route that you are going to take, execution is the key to a successful expansion. Every detail has to be justified to maximize it's potential.
1. Analysis – You must first evaluate where the most pressing problems with your current layout are originating and focus on resolving those issues first.
2. Consideration – Once you know where your problems are originating, you have to then weigh out your options. What are the available structural systems? How much space is necessary for your current needs? And don't forget to plan for future needs as well.
3. Development – Once you've determined what your needs are, it's time to create a layout. Consider things such as design and how easily it can be constructed.
Despite the many challenges that come with the growth of your business, expanding your facility – if done properly – can be an exciting part of the process.
If you're experiencing growing pains and think that it may be time to expand your facility, contact us here at Mid-Land Enterprises. We are happy to discuss the options that are available to you and offer our help to make the process of expanding as stress-free as possible.
Subscribe to Our Newsletter