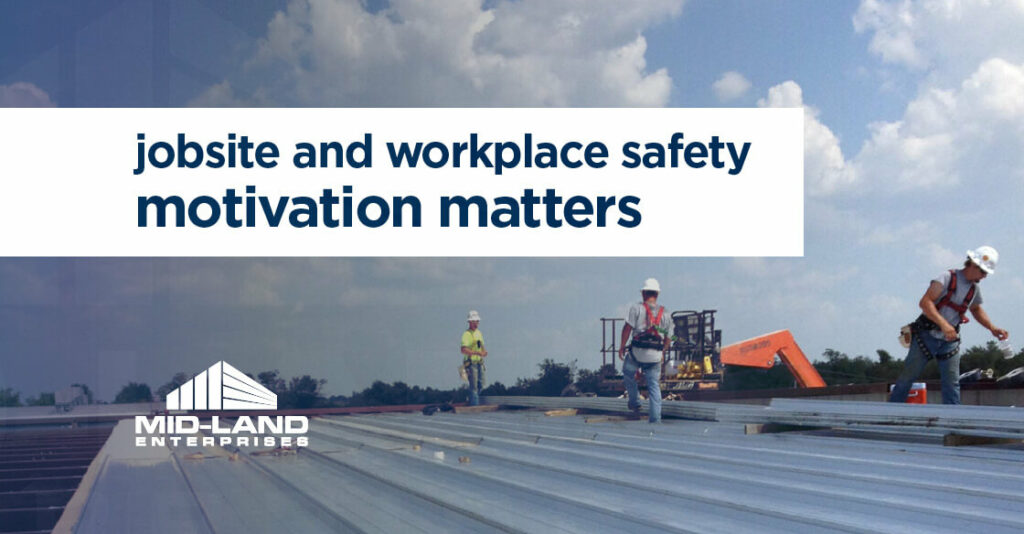 Jobsite and Workplace Safety | Motivation Matters
Have you ever stopped and thought about the reasons you have to work safely? Do you go along with safety regulations only because OSHA and your company say that it is important? If you are safe just because you are told to be, is that good enough?
At Mid-Land, we believe that your motivation matters. Stop and think this through for a minute. Maybe these are some things you ought to consider.
Your family needs you to provide for them – The lifestyle they are comfortable with depends on your work and involvement in their lives.
Healing takes a long time – An accident on the job could result in an extended hospital stay or recurring doctor appointments.
Pain doesn't always go away – If your nerves are damaged in an accident, the discomfort from your injury could stay with you for years.
Disability could keep you from enjoying your favorite recreational activities.
People are counting on you to come home safe – Think of the plans you have for the future. Kids! Grandchildren! Retirement!
There is no job or piece of production that is worth the risk of injury.

Another reason to think about working safely is the impact that it can have on your costs and customers. Workers' compensation insurance rates are based on the past 3 years of injury history. Beyond insurance costs, your injury history could also keep you from being contracted for jobs.
For many large organizations, the qualifying process requires bidders to supply an accident history for the past 3 years. You or your company could be disqualified if the contractor doesn't feel that your record is good enough. Losing jobs to other bidders can prove to be costly in both the short and long term.
From the team at Mid-Land to you:
PLEASE, work safely each and every day. Whether you are at the shop, behind the wheel, or on a job site there is no job or piece of production that is worth the risk of injury.
We would love for you to share this with your friends, family, and team! You can send it to them on social media using the links at the top of this post or use this printer-friendly version to post around your workplace.
Mid-Land is passionate about getting the job done safely and correctly the first time. If you are interested in more information about jobsite safety, download our free Roof Maintenance Manual or the Proper Jobsite Maintenance Checklist. You might also be interested in our recent blog about Improving Jobsite Communication.
Subscribe to Our Newsletter